GWR Saddletank 2028 is waiting for work at the yards of Reading. This model station is a part of the gardenrailway Paddington in Wales. The background is the real Wales nature and gives a very good effect .
The Saddeltank is build in the Netherlands by cdj. At this railway the engine pulled a train of twelve heavy 4 axle coaches without any probleem.

23/06/2001, picture ©RogerBailey.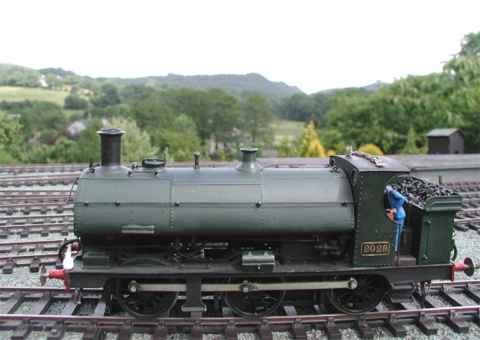 GWR Saddletank 2028 wacht op werk in de yards van Reading. Dit modelstation is een onderdeel van de tuinbaan Paddington in Wales. De achtergrond is de echte natuur. De Saddeltank lokomotief is in nederland gebouwd door cdj. Op deze modelbaan trok de lokomotief een trein van twaalf 4 assige rijtuigen zonder een enkel probleem.

23/06/2001, foto ©RogerBailey.