GWR Saddeltank 2028 is waiting for leaving the station of Stratton with a heavy loaded coaltrain. The big mainline engine will leave first with the express. The station is a part of the gardenrailway Welshampton in Wales. The background are only the fronts of the buidling and gave a good effect. This construction save a lot of space.

23/06/2001, picture ©RogerBailey.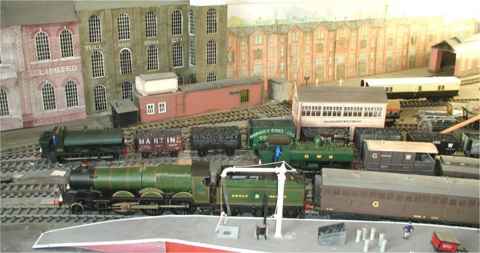 GWR Saddletank 2028 wacht op vertrek vanuit Stratton met een zware kolentrein naar het station Welshampton in Wales. Dit modelstation is een onderdeel van de tuinbaan Welshampton in Wales. De achtergrond zijn in reliŽf gebouwde gebouwen waardoor een goede achtergrond verkregen wordt zonder al te veel ruimte verlies.

23/06/2001, foto ©RogerBailey.